New Boat Sales and Service.
Is it a new boat you are after?
Is your boat in need of motor repair?
Joe's Motor Service offers new and used boat sales and high quality outboard motor repair. We promise to provide exceptional work and craftsmanship. Joe's Motor Service was begun in August 1959. Being in the marine business for over 50 years, Joe's Motor Service has all the skills and experience to repair your motor and do it at an affordable price. We take pride in our work and our customer relationships. We have the skills and experience to service your boat. A purchase from Joe's Motor Service is the beginning of a friendship. Come in or give us a call today for your next motor repair!

Listen to our theme song:

At Joe's Motor Service, we have one price plus tax. When we agree on a price, then, that will be the price with tax added. We have no hidden charges such as rigging charges, prop, gas tank etc. "its all in there", written down and you have a copy. Our word is our bond that's the way we do business. We use genuine Suzuki and Honda parts in our repair. and we have a large stock of trailer and outbound parts.



Joe's Motor Service is now the exclusive Dothan Area Dealer of Glasstream Powerboats.


At Glasstream, boat building is an art carried out by career skilled craftsmen who are dedicated to delivering the finest product. Each model is a fresh design and a product of over three decades of research and development. Every Glasstream we build features custom painted graphics making them the most visually stimulating boats The Glasstream Powerboats state of the art design and building processes result in a stronger, better handling, lighter, faster, more fuel efficient design which offers much higher levels of capability in every category.

Glasstream Powerboats



Hydro Port Steering



24′ RHINO Deck Boat

Check out "Our Customers" page and see how Rhino Boats can customize to fit your needs!
We are an authorized dealer for Suzuki and Honda outboard motors,Rhino Boats, Key West Boats and Glasstream Power Boats. We have won Suzuki's Top District Sales Award 2 years and everyone at Joe's Motor Service is a factory trained mechanic. We have always believed in providing outstanding service. We have won Suzuki's super service award for 18 years and also won the cutting edge award 3 years. We don't keep customer's boats weeks at the time waiting for service. "We keep you on the water!"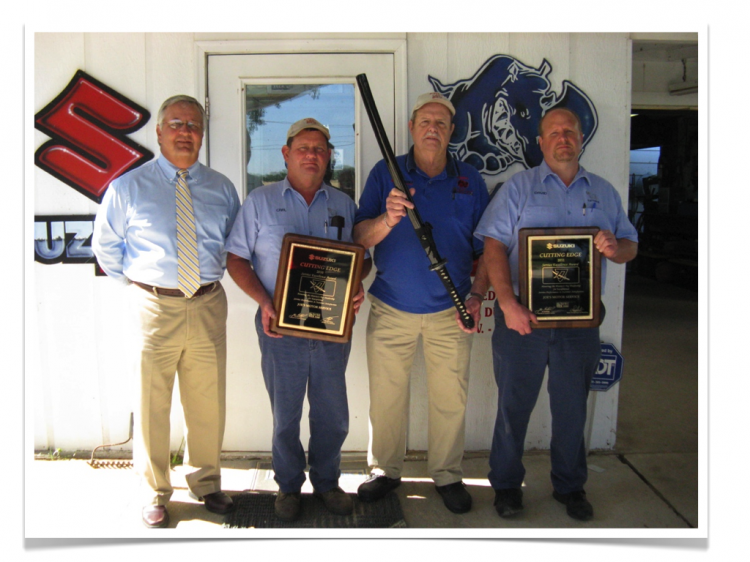 Here are some of our awards:
• Top District Sales Performer
• Super Service Award Winner
• Cutting Edge Award Winner
• Have been in marine service business for 58 years
We stock a lot of different size stick steering boats. We stock saltwater Gulf and Flats Boats and we are interested in putting you in a boat fitted to your purpose. We can have a Rhino Boat custom built for you.
You want a fishing boat? We can rebuild your motor powerhead or lower unit and we can install an electronics or rebuild your trailer. See Joe's Motor Service Now!
Joe's Motor Service Inc.
12346 E. St Hwy 52, Hartford, AL 36344
Phone: 334-588-2968
Fax: 334-588-6271
Email: joesmotor@gmail.com
We are open Mondays through Fridays from 7:00am to 5:00pm and 7:00am to 12:00 pm during Saturdays.
Please note that we are closed all day on Saturday during the months of November, December and January however you are welcome to come and enjoy the hunting season with us
Special Boating Expertise
• Fishing Boats
• Stick Steering Boats
• Salt Water Boats
We have on the spot financing as low as motor 2.99% boat and motor 5.99 at times lower.
For more information please call us at 334-588-2968 or use our Contact Us form.
Find Us!